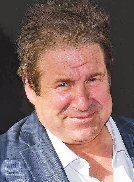 A COMEDIAN has successfully pulled a prank on the U.S. president with a fake phone call, raising concerns that White House security had not been up to par.
John Melendez, a radio show personality, said he had called Trump while the president was traveling to Washington D.C. on board the Air Force One after a rally Wednesday evening. The bizarre incident was widely reported Friday.
In an audio recording of the calls released Thursday, Melendez called up the White House and managed to convince the operator that he was an assistant for Senator Robert Menendez, and that the lawmaker needed to speak to Trump on a "pressing" issue regarding a bill.
Melendez spoke with three White House aides on two phone calls. At one point a White House aide questioned why the New Jersey senator's assistant was calling from a California cell phone number. Melendez said they were "on vacation," which satisfied the White House aide.
After several exchanges, Melendez was finally able to reach Trump and carried a five-minute conversation with Trump on issues such as immigration reform and options to fill a vacancy at the Supreme Court.
"Bob, let me just tell you I want to be able to take care of the situation every bit as much as anybody else at the top level. I'd rather do the larger solution rather than the smaller solution," a voice presumed to be Trump's answered an immigration question.
The White House has not confirmed the prank call, but according to U.S. media, White House officials were scrambling to find how a prank phone call had been patched through so easily and are looking at ways to improve security for the White House.
Melendez claimed Saturday that he was visited by the Secret Service after the prank went public, though he said he did not answer the door.
Menendez said in a statement that he welcomed "any opportunity to have a real conversation with the president" about this immigration reform.   (Xinhua)