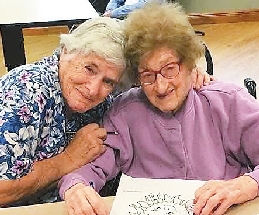 AN American mother and daughter aged 100 and 79 have met for the first time after both had been told decades earlier that the other had died.
Lillian Ciminieri, the mother, spent her life thinking her daughter had died at birth. Joanne Loewenstern, the daughter, was adopted and similarly told her mother had passed while giving birth.
Thanks to the wonders of DNA tracing and the efforts of family members the pair were finally reunited — and found to be living just 160 km apart on the Florida coast.
The pair had been separated 79 years ago in New York City. The reasons how or why that had happened remain unclear.
Loewenstern was told she was adopted aged 16 and often wondered about her real birth mother. "Many nights I sat and cried," she said.
She did not believe claims her birth mother had died. "I had a feeling she was alive somehow. I just felt that I didn't believe it for some reason," she said.
The pair were reunited thanks in part to information from Ancestry.com, which offers DNA services to help users with family history.
Elliot Loewenstern, Joanne's son, wrote: "This is incredible and my mother can finally put to bed her question of who am I? God truly works in mysterious ways and today was massive."
When mother and daughter finally met, they spent time coloring together and promised to remain in contact. On one picture Loewenstern wrote simply: "Love your daughter, Joanne."
(SD-Agencies)