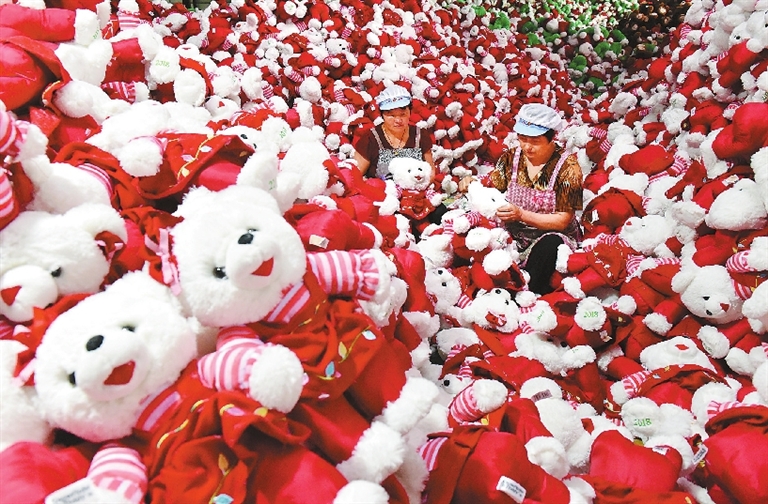 GROWTH in China's manufacturing sector slowed in June after better-than-expected performance in May, official data showed.
The official Purchasing Managers' Index (PMI) released Saturday fell to 51.5 in June, below analysts' forecast of 51.6 and down from 51.9 in May, but it remained well above the 50-point mark that separates growth from contraction for a 23rd straight month.
The findings are in line with recent data including credit growth, investment and retail sales pointing to slowing growth in China's economy, as policymakers navigate debt risks and a trade row with the United States.
Significantly, the June new export orders index contracted for the first time since February, dropping to 49.8 from 51.2 in May.
A production sub-index fell to 53.6 in June from 54.1 in May, while a new orders sub-index declined to 53.2 from 53.8.
The PMI for large-sized firms fell to 52.9 in June from 53.1 in May, the index for medium-sized firms dipped to 49.9 from 51 while that for small firms rose to 49.8 from 49.6.
"Domestic demand is weakening and external demand faces pressure from escalating trade frictions between China and the United States," said Wen Bin, senior economist at China Minsheng Bank Corp. in Beijing.
Wen said he expected the central bank to continue to lower banks' reserve requirement ratios (RRR) in the coming months.
A sister survey showed growth in China's service sector picked up slightly in June, with the official non-manufacturing PMI rising to 55 from 54.9 the previous month.
On July 16, the government is due to release data on second-quarter growth in gross domestic product and other key indicators.(SD-Agencies)