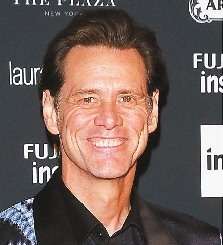 'Sonic the Hedgehog'
JIM CARREY is in final negotiations to join James Marsden in Paramount Pictures' big-screen take on "Sonic the Hedgehog." Carrey will play Robotnik, aka Doctor Eggman, a mad scientist and Sonic's archenemy.
First-time feature director Jeff Fowler, who is known for his 2005 Oscar-nominated short, "Gopher Broke," is helming the movie, which will blend live-action and CGI elements.
Based on the popular SEGA video game franchise, "Sonic the Hedgehog" centers on Sonic and his friends, such as Tails and Knuckles, who run around collecting items and points as they attempt to foil the global domination plans of Doctor Eggman Robotnik.
Oscar entry
BELARUS became the first European country to announce its 2019 Oscars submission Saturday when it named Darya Zhuk's debut feature "Crystal Swan" as its selection for the best foreign language film category.
The announcement — made onstage before the film's world premiere at the Karlovy Vary International Film Festival in the Czech Republic — marks the first time in 22 years that Belarus has sent a film to the Academy Awards. The last was Dmitri Astrakhan's Yiddish, Russian and German-language Holocaust drama "From Hell to Hell" in 1996.
The film tells the story of a young female Belarusian hip-hop DJ in the mid 1990s who dreams of emigrating to America and finding fame in the music scene there.
Accusation
CHILEAN filmmaker Nicolas Lopez, a frequent collaborator of American horror filmmaker Eli Roth, has been accused of sexual misconduct and harassment by multiple women in a new report.
Eight women accused the writer-director, whose credits include Roth's "Aftershock," "The Green Inferno" and "Knock Knock," of inappropriate behavior including unwanted kissing, requests that women touch him, and masturbating in front of one woman in a story published Saturday in Sabado, a weekend magazine of the Chilean newspaper El Mercurio.
Three of his accusers are well-known actresses, according to CNN Chile.
(SD-Agencies)