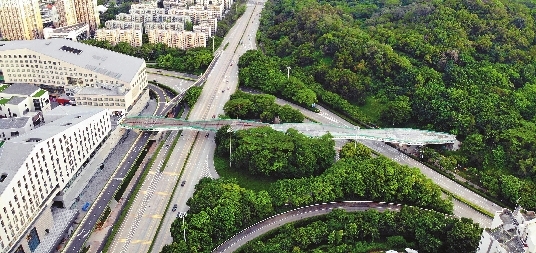 AN aerial corridor connecting Lianhua Hill Park and Bijia Hill Park that spans three urban roads — Huanggang, Lianhua and Caitian roads — in Futian District has been completed.
The 1.2-kilometer corridor is receiving its final touches and will be open to the public by the end of the year, according to the contractor, China Construction No. 8 Engineering Bureau.
The structure of the footbridge is made of steel and the single heaviest frame weighs 57.1 tons.
With two parks at each end and Upper Hills, a large urban complex that integrates apartment buildings, hotels and business centers, at its center, the aerial corridor consists of two parts: a 366-meter-long bridge over Huanggang Road and a 243-meter-long bridge over Caitian Road.
It will take about 10 minutes to walk between the two parks via the bridge. The tw o roads, which link Futian CBD with Longhua District, often see heavy traffic, especially at rush hours.
The construction of aerial corridors is one way that Futian District Urban Renovation Bureau is improving urban landscaping and separating vehicle and pedestrian flows as the ground traffic in the CBD area grows more saturated.
The aerial project is a fore-end engineering project for the development of the Meilin-Caitian area, said the Futian bureau. According to the district's 13th Five-Year Plan, a total of 55 projects involving 36 billion yuan (US$5.46 billion) of investment will be launched in the area, targeting industrial development, auxiliary facilities and transportation optimization.
Upper Hills will be built into a new type of urban complex that integrates the creative industry, high-end research, modern finance and trendy consumption.
The China International Consumer Electronics Exchange and Exhibition Center, which is located in Upper Hills and was put into operation in March, is a first-class high-end electronics products center.
It covers an area of 40,000 square meters and has attracted more than 300 consumer electronics brands in the world.
(Han Ximin)