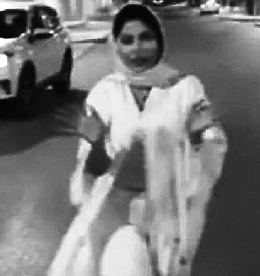 A SAUDI Arabian TV presenter has fled the country after an investigation was launched into claims she had violated the kingdom's dress code for women.
Shereen Al-Rifaie is accused of recording a segment on women finally being allowed to drive in Saudi Arabia in an outfit deemed "indecent" by the Saudi General Commission for Audiovisual Media.
The presenter wore a white abaya — a traditional Muslim robe-like dress — which opened to reveal white trousers and a top underneath in the TV segment.
Her hair was somewhat covered by a loose white scarf, but her dark locks could be seen by her hairline and flowing down her back.
She was reporting on the lifting of the long-standing ban on women driving in the conservative Muslim kingdom, which took place last month.
Saudi Arabia has a legally imposed dress code, and all women, foreign and local, are required to wear an abaya in public.
Muslim women must also wear a headscarf — or hijab — to cover their hair, but foreigners are not legally required to do so.
While it is not ordered by the state, many Saudi women also choose to cover their face with a burqa or niqab. (SD-Agencies)