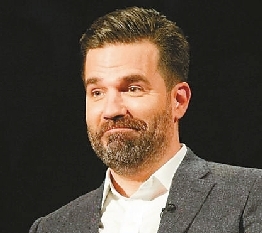 U.S. actor and comedian Rob Delaney has announced he and his wife Leah are to become parents to their fourth child.
The star of the Channel 4 sitcom "Catastrophe," who lives in London, shared the news with fans on Twitter.
It comes five months after the death of the couple's 2-year-old son Henry, who was diagnozed with a brain tumor in 2016 and died in January.
In a video, the actor praised the NHS and called for U.S. citizens to campaign for better healthcare.
Delaney, who has two further children with Leah, wrote on Twitter that two "typically wonderful" midwives had visited him and his wife to assess them for a home birth.
Continuing his praise for the health service, he sent his "love" to protesters marching in London on Saturday to mark the NHS' 70th birthday.
The tweet also included a video he made for Democratic Socialists for "Medicare for All," talking about the differences between the healthcare systems in the U.S. and the U.K.
In the video, Delaney said, "Our son Henry passed away in January of this year from cancer and he was a beautiful little boy from the moment he was born until the moment he died.
"And he benefited so much from the healthcare system here and so did we as his parents, because while we endured stress that was truly unbelievable, we didn't endure the financial stress of wondering, 'are we going to be able to pay for this?'
"'Are we going to have to move during his treatment because we have to move into a smaller house? Or move in with relatives?'
"That financial stress, we didn't have to endure here, and what a gift."
(SD-Agencies)