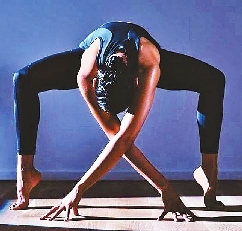 U.S. startup* Wearable X has invented a pair of yoga pants that use Bluetooth and an iOS app to help users with their yoga practice. The Nadi X pants give vibrational* feedback to help remind wearers what muscles to focus on while practicing yoga.
They have five woven-in accelerometers* and motorized* vibrating panels located at the hips, knees and ankles.
The pants are hand-washable and are powered by a removable battery called the "pulse" which lasts about 90 minutes per charge.
The pulse clips in behind the wearer's left knee, and the company says it does not restrict any poses.
The Nadi X iOS app leads users through a session with a library of yoga poses, visuals and an auditory coach.
The accelerometers in the pants can determine which pose the user is in, and then it can respond by activating the vibrating panels to remind them which muscles they should concentrate on.
The app can also track a user's progress, and offers suggestions for poses and improvements.
There is also an option to adjust the intensity of the vibrations.
Wearable X has launched a crowdfunding* campaign for the Nadi X pants.
For US$229, a backer will receive a pair of the pants along with a year-long subscription* to the app, a US$370 value.(SD-Agencies)