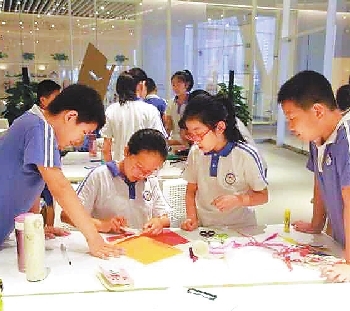 Recently, students from Class 4, Grade 4 at Nanyou Primary School took a field trip to the Sea World Culture and Arts Center to participate in a campus design tour organized by Design Society.
"This is a handbag that we have designed. The main material is discarded plastic bags and the main tone is black. With some red and yellow leaves, the bag looks better! We hope that people can be more environmentally friendly and stop using handbags made of animal skin," said some students.
Design Society is a comprehensive innovative culture platform. It joins hands with the Victoria and Albert Museum of the U.K. to run the "Values of Design" exhibition, introducing a total of 297 exhibits and creating a series of design courses including the campus design tour.
Before visiting the exhibition, the course instructor guided the students to think about questions like "What is design? What products do you like? What part of a product's design attracts you the most?" Then the instructor introduced various design materials to them.
After the visit, the students went back to a workshop with a design task. Within 20 minutes, they had all finished their designs, with some designing handbags, some environmentally friendly necklace and others chairs.
In recent years, Nanyou Primary School has infused more social resources into their curriculum, making full use of the cultural facilities in Shenzhen including museums, art galleries, concert halls and libraries.
(Chen Xiaochun)