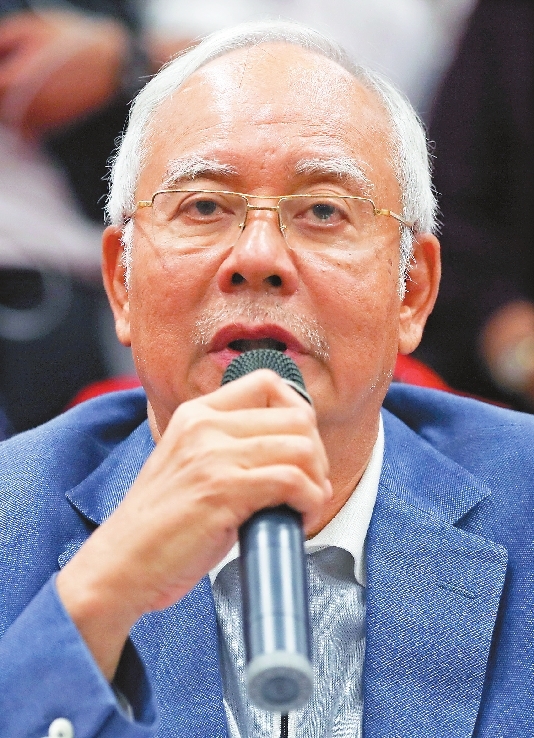 MALAYSIAN anti-corruption agents arrested former Prime Minister Najib Razak yesterday following a probe into how money went missing from a state fund he founded almost a decade ago and authorities said he would be charged in court today.
Since a shock election loss to his mentor-turned-foe Mahathir Mohamad in May, Najib has been barred from leaving the country and had millions of dollars of items seized from properties linked to him as part of the probe into 1Malaysia Development Berhad (1MDB).
Najib's arrest was in relation to a probe into SRC International, a former 1MDB unit, a task force investigating the fund said yesterday.
Anti-graft agents picked up Najib from his home after serving him with a remand order, sources close to the family said. Najib has consistently denied wrongdoing.
Founded by Najib in 2009, 1MDB is being investigated in at least six countries for alleged money laundering and graft.
Civil lawsuits filed by the U.S. Department of Justice allege that nearly US$4.5 billion from 1MDB was laundered through a complex web of transactions and shell companies.
But the initial focus of the Malaysian Anti-Corruption Commission (MACC) investigation focused on how 42 million ringgit (US$10.6 million) went from SRC International to Najib's account.
SRC was created in 2011 by Najib's government to pursue overseas investments in energy resources, and was a unit of 1MDB until it was moved to the finance ministry in 2012.
MACC has been able to track the money trail from SRC more easily because transactions were made through Malaysian entities, whereas most other transfers of 1MDB funds went through foreign banks and companies.
Police say they have seized nearly US$275 million worth of jewelry, handbags, watches and cash from premises linked to Najib, while authorities have frozen more than 400 bank accounts as part of the 1MDB probe.
(SD-Agencies)