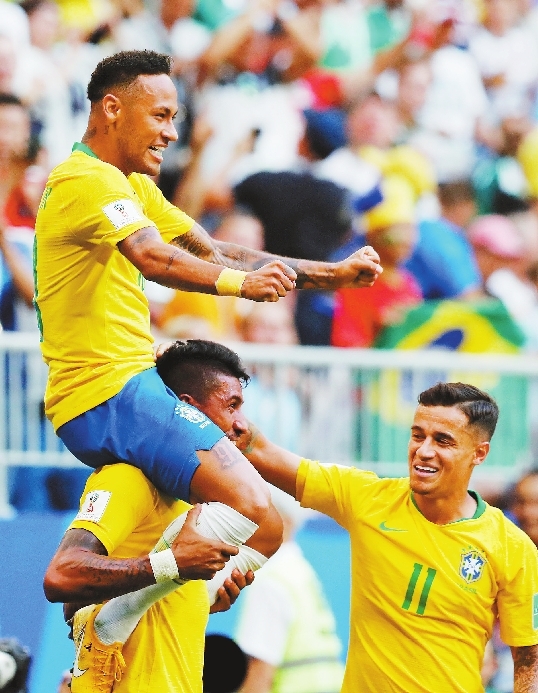 BRAZIL beat Mexico 2-0 Monday as Neymar propelled his national team into the World Cup quarterfinals with a goal and an assist.
He also extended his platform to show the world he is as good — or better — than Cristiano Ronaldo and Lionel Messi.
Although Neymar has scored only two goals in four games in Russia, he did enter the World Cup after spending three months recovering from a broken right foot. And it was the right foot that helped to break through Mexico's stern resistance in Samara.
After releasing Willian with a back-heel, Neymar raced into the penalty area and slid to tap his teammate's return cross into the net.
While his scoring is so often the focus, Neymar also creates goals for his teammates. A toe-poked attempt to beat Mexico goalkeeper Guillermo Ochoa in the 88th minute was diverted into the path of Roberto Firmino, who scored with a tap-in just like Neymar did. The world's most expensive player has 11 goals and nine assists in his last 19 games for Brazil.
But before setting up the second goal it looked like Neymar's game — or even his World Cup — could be over with 20 minutes to go. It turned out to be pure histrionics. Writhing in agony after his right ankle was stepped on by Miguel Layun, Neymar managed to get back on his feet. But not before trying to step on Layun.
Both escaped punishment, but the judgment elsewhere was less forgiving, with Neymar asked after the match if he was a diva trying to draw fouls.
"I think it's more an attempt to undermine me than anything else," Neymar responded.
The five-time World Cup champions will next face Belgium in the quarterfinals Friday in Kazan. Brazil has reached that stage at every World Cup since 1994.
Mexico has now lost in the round of 16 at every tournament over the same period of time, extending its wait for the "quinto partido" — or fifth game — for at least another four years. The last time Mexico reached the quarterfinals was when the country hosted the tournament in 1986.
This year's World Cup had started so promisingly for Mexico. The team opened with a win over Germany, setting the defending champions on the path to an early exit. They caused problems for Brazil, too, initially.
But they couldn't find a way to stop Neymar. "He's very agile. He's very fast," Brazil coach Tite said. "Is it wrong to feign, to provoke the players in the last third? It's not a sin."
Neymar's dispute with Layun unfolded as the Mexico substitute tried to recover the ball. In a delayed reaction, Neymar made the most of Layun stepping on his ankle, rolling around with his hand covering his eyes.
The rapid recovery seemed miraculous.
"We wasted a lot of time because of one single player," Mexico coach Juan Carlos Osorio said, without naming Neymar. "I think this is a real shame for football, especially for kids who are watching because this has to be a sport of virility, of determination, a man's sport, like other games, and not a charade."
During the win over Costa Rica in the group stage, Neymar tried to win a penalty by flopping to the ground in the area. A video review reversed the decision to award a penalty kick and Neymar's frustrations a few minutes later led to a yellow card.
Tite also played a big role in the victory over Mexico, deciding to replace Philippe Coutinho with Firmino. Fresh among tiring legs, Firmino was able to evade the defense to get in the right place to score the second goal.
With Germany, Argentina and Spain among the contenders already eliminated, Brazil's hopes of a sixth World Cup title have received an extra lift.
(SD-Agencies)