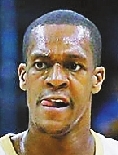 WITH LeBron James in the bag, the Los Angeles Lakers' explosive NBA free-agent summer continued Monday with what could be a wake-up call for Lonzo Ball. According to ESPN's Adrian Wojnarowski, Rajon Rondo will be joining the Purple and Gold on a one-year deal.
The four-time All-Star and three-time assist champ isn't joining the Lakers just to take a seat on the bench.
Nor do the Purple and Gold expect him to. As ESPN's Ramona Shelburne tweeted, the Lakers are "trying to win now" with LeBron onboard, and thus will give the job to the "best man."
Regarding Rondo and the Lakers, source says they told him that with LeBron here they're trying to win now.
This past season, Rondo averaged 8.2 points and 8.3 assists in 63 regular-season games.
(SD-Agencies)