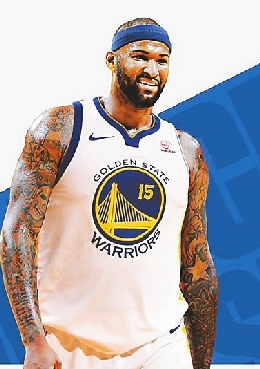 DEMARCUS COUSINS reportedly signed with the Warriors on Monday. He believes he made the right decision.
Cousins told ESPN joining Golden State was "his Ace of Spades" and that he had made the "smartest move ever."
The 27-year-old center agreed to a one-year, US$5.3 million contract with the Warriors, according to multiple reports. He chose Golden State over the Celtics, according to ESPN.
Cousins tore his Achilles tendon in late January and missed the rest of 2017-18.
Cousins told ESPN's The Undefeated in May he's aiming to be healthy by the start of training camp.
Cousins spent his first six and a half NBA seasons with the Kings before he was traded to New Orleans in February 2017.
The Lakers had also reportedly expressed interest in signing Cousins.
The Warriors finished last season with a 58-24 record. They swept the Cavaliers in the NBA Finals to win their third championship in four seasons.
From a skill perspective, this is obviously great news for the Warriors. Stephen Curry, Klay Thompson, Kevin Durant and Draymond Green already made for an unfair collection of talent capable of storming past anyone and everything thrown at them by the NBA.
But Cousins, when healthy, is one of the game's premier bigs, and he plays a style that should fit nicely with the system deployed by head coach Steve Kerr.
Cousins is a four-time All-Star and two-time All-NBA representative coming off a season with the New Orleans Pelicans in which he averaged 25.2 points, 12.9 rebounds, 5.4 assists, 1.6 steals and 1.6 blocks.
That was the fewest points per game he's posted since his 2014-15 efforts for the Sacramento Kings, but he made up for the slightly diminished volume by slashing 47.0/35.4/74.6 — the middle number coming on a whopping 6.1 three-point attempts per contest.
Cousins was also playing some of the best defense of his professional tenure before suffering the Achilles injury.(SD-Agencies)