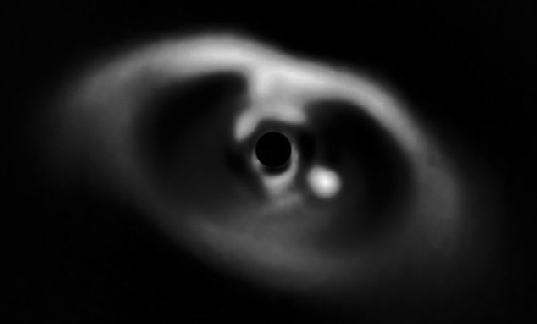 SCIENTISTS have used the most powerful telescope ever built for peering into the depths of the universe to witness a planet being born for the first time.
The newborn world was snapped using the ESO's Very Large Telescope in Chile's Atacama desert and is thought to be 370 light years from Earth.
It was the telescope's Sphere instrument, which allows experts to measure the brightness of the planet, that initially made the discovery.
Researchers were alerted to the birth of the new world by analyzing different wavelengths of light to measure the properties of its atmosphere.
The discovery is a significant step forward in space exploration and provides new insight into how planets form.
The discovery was led by a team at the Max Plank Institute for Astronomy as part of the European Southern Observatory project.
Dubbed PDS 70b, the new planet is seen emerging from the shadow of its young star as the solar system forms. Previous attempts to watch planet formation have been obscured by a cloud of dust from the new world.
However, this latest image from the VLT bypassed the dust by analyzing the light around the newly formed planet.
The dark region at the center of the image is due to a filter which blocks the blinding light of the star and allows astronomers to detect the planet.
The planet itself is the bright orb of light to the right of the black disk.
The coronograph is a key part of the discovery, as without it, the sheer brightness of the light produced by its host star PDS 70 would overwhelm any light coming from the planet, making it indistinguishable.
"These discs around young stars are the birthplaces of planets, but so far only a handful of observations have detected hints of baby planets in them," explains Miriam Keppler, who leads the team behind the discovery of PDS 70's still-forming planet.
It is believed that the planet is roughly 3 billion kilometers from the central star, about the same as the distance between Uranus and the Sun.
For scale, that is almost as far as traveling around Earth's equator almost 75,000 times.
Despite being this far from its star, the gas giant has a mass a few times heavier than Jupiter and its surface temperature exceeds 1,000 degrees Celsius.
(SD-Agencies)