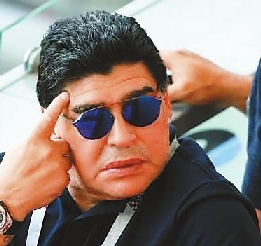 FIFA says it "strongly rebukes" Diego Maradona's criticism of referee Mark Geiger following England's World Cup penalty shootout win over Colombia on Tuesday.
The Argentina icon — who has rarely been out of the headlines during World Cup 2018 — believes Colombia was victims of a "monumental theft" and laid into the performance of the officials.
FIFA responded and described the 57-year-old's comments as "entirely inappropriate and completely unfounded."
A statement read: "Following comments made by Diego Armando Maradona in relation to Tuesday's round of 16 game, Colombia Vs. England, FIFA strongly rebukes the criticism of the performance of the match officials, which it considers to have been positive in a tough and highly emotional match.
"Furthermore, it also considers the additional comments and insinuations made as being entirely inappropriate and completely unfounded.
"At a time when FIFA is doing everything within its power to ensure principles of fair play, integrity and respect are at the forefront of this World Cup and how the organization is now run, FIFA is extremely sorry to read such declarations from a player who has written the history of our game."
(SD-Agencies)