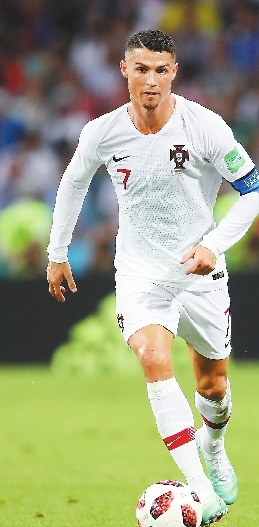 RUMORS of a potential transfer that would send Cristiano Ronaldo from Real Madrid to Italian champion Juventus led the front pages of multiple daily sport newspapers in Europe on Tuesday.
Sources close to Ronaldo told ESPN that Juventus has made an offer to Real Madrid for the Portuguese superstar but that no decision has been reached by any party at this point.
Marca in Spain and A Bola in Portugal led their Tuesday print editions by amplifying a claim made on Spanish TV station La Sexta's "Jugones" show Monday night that Madrid had agreed to sell Ronaldo to Juventus.
The newspapers cited the TV report in their own discussions of a potential transfer, but did not confirm that the deal has already been agreed.
Meanwhile, the story on the front of Italy's Tuttosport on Tuesday said Juventus was preparing an offer of nearly 120 million Euros (US$140 million) for Ronaldo.
ESPN Deportes' Paola Nunez reported that the "Jugones" story means that Real Madrid is at least considering the possibility of negotiations with Juventus.
Any transfer would still require Ronaldo to leave and agree personal terms on a new contract. The "Jugones" report said Juventus would offer to make Ronaldo the highest-paid player in their history at 30 million Euro a year.
Juventus CEO Giuseppe Marotta met with Ronaldo's agent Jorge Mendes last week while finalizing the signing of another client, Portugal full-back Joao Cancelo.
Ronaldo threw his future into doubt in May by talking about Madrid in the past tense after beating Liverpool in the Champions League final, voicing frustration over long-stalled talks with club president Florentino Perez about an improved contract.
A source close to Ronaldo told ESPN in June that he remained determined to leave Real Madrid this summer, though he would only consider a move to England, France or Italy.
However, the situation was quite similar a year ago, as the former Manchester United player let it be known that he wanted out of Madrid over issues with Spanish tax authorities, only to end up staying at the Bernabeu. Last month, he reportedly agreed to pay 18.8 million Euros to settle his tax case.
When the transfer rumors escalated again in January, sources close to United said at that time they doubted any claims that Ronaldo really wants to leave Real Madrid — and that he was merely trying to force a better deal out of his current club.
Ronaldo said in December that he wanted a raise after helping Real win the Club World Cup. Sources close to the player have told ESPN multiple times in the months since that the player is still unhappy with Perez for not keeping his promise of a new contract.(SD-Agencies)