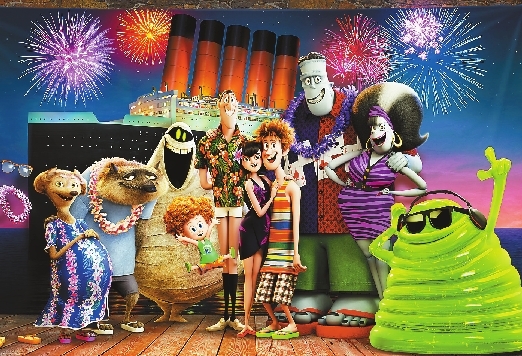 IT'S shaping up to be a big year in animation, with Disney/Pixar's "Incredibles 2" currently leading the box office pack by earning US$656.6 million worldwide.
Other animated releases have also included Sony's live action/animation hybrid "Peter Rabbit" (US$350 million gross) and Wes Anderson's solid-grossing indie "Isle of Dogs," with US$63 million.
Despite varied animated films already having been released, there is still an array of films on the horizon for the latter of the year in the United States. The family animated feature "Hotel Transylvania 3: Summer Vacation" will hit U.S. theaters July 13, followed by Warner Animation Group's "Smallfoot" (Sept. 28), Illumination's "The Grinch" (Nov. 9), Disney's "Ralph Breaks the Internet: Wreck-It Ralph 2" (Nov. 21) and Columbia, Sony Pictures Animation and Marvel's anticipated "Spiderman: Into the Spider-Verse" (Dec. 14).
Drac and his family are back in "Hotel Transylvania 3: Summer Vacation." In this new installment of the franchise, again helmed by Genndy Tartakovsky, the gang embarks on a cruise. The returning characters include Count Dracula (voiced by Adam Sandler) and his daughter Mavis (Selena Gomez).
Based on the book "Yeti Tracks" from Sergio Pablos, "Smallfoot" is a comedy centering on Migo (voiced by Channing Tatum), a Yeti who is convinced that the elusive creatures known as "Smallfoot" (humans) really do exist.
"The Grinch" won't just be a remake of the 1966 TV classic, "How the Grinch Stole Christmas." Instead, the film will be an original story about Dr. Seuss' iconic creature, who will be voiced by Benedict Cumberbatch.
"Ralph Breaks the Internet: Wreck-It Ralph 2," the sequel to the 2012 Oscar-nominated video-game-world-set hit, finds Ralph (John C. Reilly) and Vanellope (Sarah Silverman) entering the world of the Internet. The trailer has already revealed a comedic scene during which Vanellope meets the Disney princesses and lovingly skewers the Disney animated classics.
"Spider-Man: Into the Spider-Verse" brings Marvel's Miles Morales/Spider-Man character to the big screen, voiced by actor Shameik Moore.(SD-Agencies)