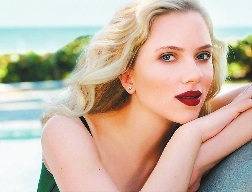 ACTRESS Scarlett Johansson is once again at the center of what is shaping up to be another casting controversy.
Re-teaming with her "Ghost in the Shell" director Rupert Sanders, Johansson is set to star in a feature called "Rub & Tug," about the true life story of Jean Marie Gill who was assigned female at birth but assumed the identity of a man, Dante "Tex" Gill. Gill operated a massage parlor and prostitution business in Pittsburgh in the 1970s and 1980s.
While it's unclear how Gill identified, an obituary in the Pittsburgh Post-Gazette noted that "Gill wanted to be known as Mr. Gill and she may even have undergone the initial states of a sex change that made her appear masculine."
When news of the project broke this week, online commentators began to criticize Johansson, a cisgender woman, for choosing to play a transgender man, arguing that the role should have gone to a transgender actor.
Johansson then said in a statement that "Tell them they can be directed to Jeffrey Tambor, Jared Leto, and Felicity Huffman's reps for comment."
Her response references other cisgender actors who have played transgender characters and all won awards.
(SD-Agencies)