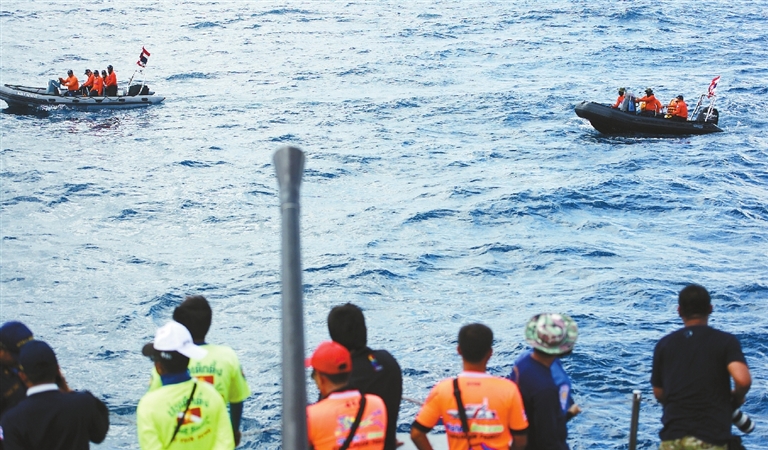 FORTY-TWO people were confirmed dead and 15 others remained missing after two tour boats capsized in a storm off southern Thailand's Phuket island, according to the latest report by the Chinese Embassy in Thailand yesterday.
Forty-one bodies, among them 13 children, were recovered yesterday, Thailand's tourism minister said at a press conference. One body was spotted inside hull but has not yet been recovered.
Local police said yesterday they have charged two boat captains with negligence for the accident.
Rescuers were preparing to lift the sunken Phoenix, which went down in bad weather Thursday with 105 people on board, including 93 Chinese tourists and 12 Thai crew, one of Thailand's worst accidents in recent history.
Thai Rear Admiral Charoenphol Koomrasee, deputy commander of the Third Fleet of the Royal Thai Navy, said Saturday that with 17 professional divers from the Chinese rescue teams joining, they scoured the wreckage of Phoenix on Saturday.
The deputy commander said that they were racing against the clock to find those who were still unaccounted for and they had dispatched three helicopters, eight ships and around 800 rescuers, including divers, for the 24-hour search.
Two boats carrying over 130 foreign tourists, among whom 127 were Chinese, capsized in high tides and strong winds off the southern Thai resort island of Phuket on Thursday afternoon.
All the victims were from Phoenix while all 42 people onboard the boat Serenata were rescued and safe.
Phuket Governor Norraphat said the Thai Government had set up service counters in Phuket Airport to assist relatives of the victims who were coming to Phuket.
For the injured tourists, the Thai Government would cover all their medical expenses. Relatives of each of deceased tourists would get some 1.4 million baht (US$42,200) as compensation based on the boat's insurance and Thai laws, he said.
Chinese Ambassador Lu Jian, who visited injured Chinese tourists in a local hospital Saturday, called on Thai authorities to quickly mobilize an intensive search for the missing and "tend and make appropriate arrangements for the rescued Chinese tourists, treat and cure the injured, and receive family members of the Chinese tourists involved."
According to the Chinese Consulate-General in Songkhla, 78 Chinese tourists have been rescued.
"The boat was listing very badly," said a Chinese survivor surnamed Huang who was aboard Phoenix.
The tourist boat capsized soon after water began to pour into the vessel, recalled Huang, adding that the crew members released a life raft after passengers were swept into the sea.
"We were helpless at that time," said another Chinese man surnamed Lin while recalling his last seconds on Phoenix.
"I was shivering and felt very cold when floating in the sea," he said. The tour guide asked the passengers to wear life jackets before the boat overturned, Lin said.
President Xi Jinping on Friday asked the Ministry of Foreign Affairs and Chinese Embassy and consulates in Thailand to take measures in the rescue operation, and urged the Thai Government to spare no efforts to search for the missing.
(Xinhua)
(More on P3)