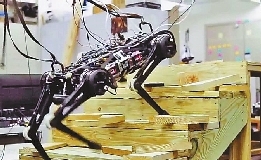 THANKS to two new algorithms, MIT's Cheetah 3 robot doesn't need to see to leap and gallop across rough terrain, climb a staircase littered with debris, and quickly recover its balance when suddenly yanked or shoved, according to a new video MIT shared Thursday.
The 40-kg mechanical beast is intentionally designed to do all this without relying on cameras or any external environmental sensors.
"There are many unexpected behaviors the robot should be able to handle without relying too much on vision," said Sangbae Kim, the robot's designer, quoted by the university's press release.
"Vision can be noisy, slightly inaccurate, and sometimes not available, and if you rely too much on vision, your robot has to be very accurate in position and eventually will be slow. So we want the robot to rely more on tactile information. That way, it can handle unexpected obstacles while moving fast," said the associate professor of mechanical engineering at MIT.
The Cheetah 3 relies on two algorithms developed by the Kim team: a contact detection algorithm and a model-predictive control algorithm.
The contact detection algorithm helps the robot figure out the best time for a given leg to switch from swinging in the air to stepping on the ground.
Within the next few years, researchers may send the robot to carry out tasks that would otherwise be too dangerous or inaccessible for humans to take on, according to MIT.   (Xinhua)