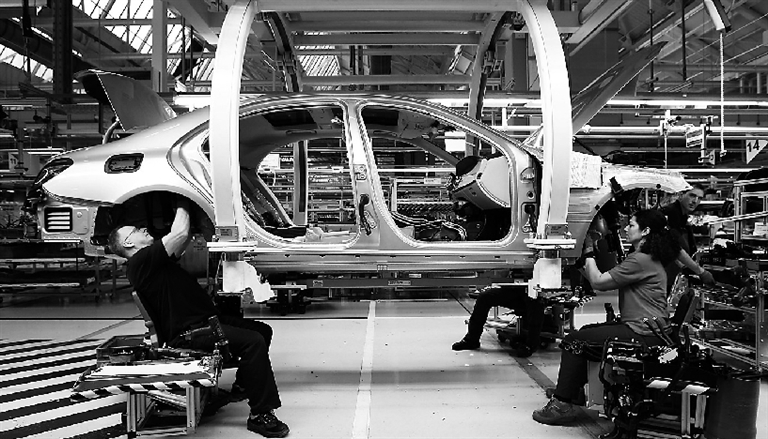 GERMAN industrial output bounced back in May, suggesting that factories in Europe's largest economy are gathering steam again after a weak start to the year, but Finance Minister Olaf Scholz warned that an escalating trade war could weigh on growth.
Data released by the Statistics Office on Friday showed output increased by 2.6 percent, the highest rise since November. The reading beat a recent forecast for a rise of 0.3 percent and was only the second rise so far this year.
The figure for April was revised to a fall of 1.3 percent from a previously reported fall of 1 percent.
The country's economy ministry put down the fall in April to holidays.
"The combination of a healthy backlog as well as a comprehensive level of orders in May signal that the development in the manufacturing sector remains modestly positive," it said in a statement.
Finance Minister Scholz warned that U.S. President Donald Trump's decision to impose tariffs on goods imported from trade partners like China and the European Union, would damage everyone.
"If we were to reach an escalation in tariffs, this would also massively damage the United States," he said during a news conference.
Scholz defended his spending plans from criticism they are too frugal for an economy that has been growing since 2010, saying risks linked to the mushrooming trade war required careful fiscal planning.
Despite its exposure to uncertainties abroad, the German economy is getting impulses from consumption and construction.
A breakdown of the output data showed that activity in the consumer goods and construction sectors was most vibrant.
Carsten Brzeski of ING DiBa said the positive data bodes well for the growth prospects in the second half of the year.
"After a long period of disappointments, this week finally brought some rays of light to the German economy," he wrote in a note. "It increasingly looks as if the economy is in a transition toward more normal growth rates."
Rising real wages, higher state spending on infrastructure and pensions as well as a robust labor market should sustain the upswing, at least in the short term.
Scholz defended plans to preserve the level of pensions at 48 percent of an average salary until 2025 with a rare jab against Trump: "If we don't want Trumps in Germany, we need to do something about it."
The recent figures dispel concerns about growth in Europe's largest economy and support expectations that a consumption-driven upswing will continue this year albeit at a slower pace than last year when the economy expanded by 2.5 percent. (SD-Agencies)