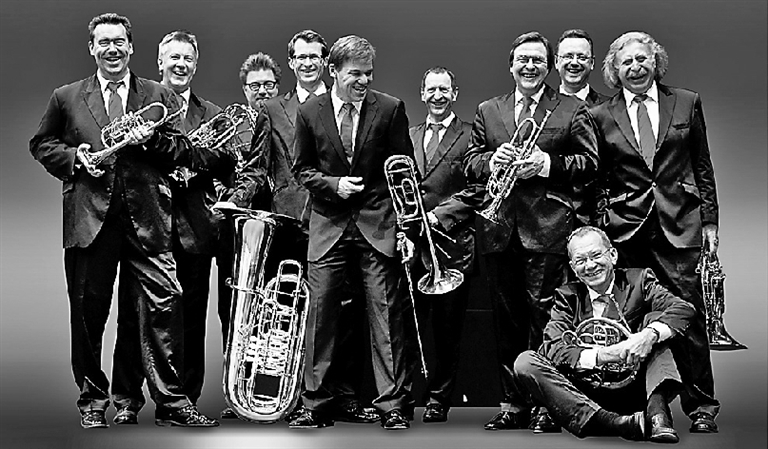 German Brass, a brass ensemble from Germany, will play Bach's "Ratswahl 1731," "Toccata and Fugue in D Minor, BWV 565," Rossini's "La Danza," Bernstein's "Somewhere" and "America," Morricone's "The Mission," Badelt's "Fluch der Karibik," Jones' "Soul Bossa Nova," Nyro's "And When I Die," Goodwin's "Sing Sang Sung," and some jazz pieces.
Founded in 1974 as Brass Quintet by Enrique Crespo, the group is well known as the best performing professional brass ensemble in Germany with more than 20 CDs and two DVDs recorded to date. German Brass musicians are members of major German symphony orchestras or are professors at universities or schools of music.
They have succeeded in creating diversity in unity and producing a unique, unmistakable collective sound. As an ensemble they play transparent chamber music but at the same time with symphonic magnificence and dynamics that only brass instrumentalists can produce.
The repertoire of German Brass includes all stylistic directions from Scheidt to Shostakovich and from jazz to bossa nova. It contains unabashedly classical and timeless, serious and entertaining elements. In their concerts the ensemble nurtures and surmounts that division in two kinds of musical styles with finesse and fun: The programs contain arrangements of classical works as well as adaptations and compositions of musical evergreens which have mostly been arranged and composed specially for German Brass and pay tribute to the typical sound and the technical brilliance of the ensemble.
Time: 8 p.m., July 11
Tickets: 180-580 yuan
Venue: Shenzhen Concert Hall, intersection of Hongli Road and Yitian Road, Futian District (福田区红荔路和益田路交汇处深圳音乐厅)
Metro: Line 3 or 4 to Children's Palace Station (少年宫站), Exit D(SD News)