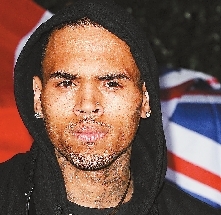 SINGER Chris Brown was arrested after his concert Thursday night on a felony battery charge stemming from an incident that occurred more than a year ago.
Brown, 29, was arrested in West Palm Beach after performing at the Coral Sky Ampitheatre at the South Florida Fairgrounds, according to Tampa police spokesman Stephen Hegarty.
The battery charge was connected to an April 2017 incident in a Tampa club, according to Hegarty, where Brown allegedly punched a man who photographed him without his permission.
The Palm Beach County Sheriff's Office said Brown was released after about an hour. Hegarty said Brown posted US$2,000 bond.
CNN has reached out to Brown's attorney.
The singer has had several run-ins with the law, including physical assault charges following an incident with his then-girlfriend, Rihanna, in 2009. He was charged with felony assault and making criminal threats in that incident, and received five years probation and community service.
(SD-Agencies)