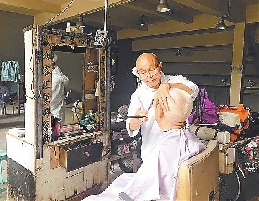 AT the entrance of a pedestrian tunnel near Guihua Road in Futian Bonded Area, there is a simple barber stall, consisting of a chair, a wooden box, a mirror, a toolbox, and a few chairs for waiting customers.
The owner of the stall is Wang Bangjin, a 75-year-old man who has been working as a barber for 58 years.
Although Wang's stall is simple, he has attracted many residents with his good service and masterly skills. He has also forged deep friendships with residents over the years.
"I've been coming to Wang for a haircut since 2004," said a resident surnamed Chang. He said he likes to have his face shaved by Wang very much, as it is very comfortable.
A resident waiting for a haircut said that he had snuck out of his office early to have his hair cut at Wang's stall, because there are always a lot of people waiting in the evenings and on weekends.
Wang is from Sichuan Pro-vince. He started working as a barber at 17. Even though he is 75 years old, he still opens his stall every day. He starts working at around 10 a.m. everyday and works until 8 or 9 p.m. He can serve more than 10 customers a day.
Attracted by the city's rapid development and its proximity to the sea, Wang came to Shenzhen on March 7, 1995. In 2003, he finally found a suitable location for his stall and has been a fixture there ever since.
"I'll keep doing it as long as there is still one customer or until I can't work anymore," Wang said. (Zhang Yu, Fu Xinyue)