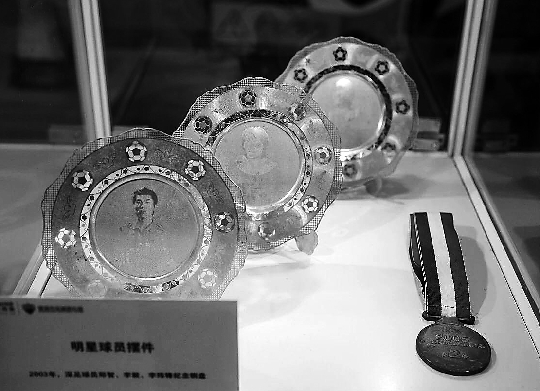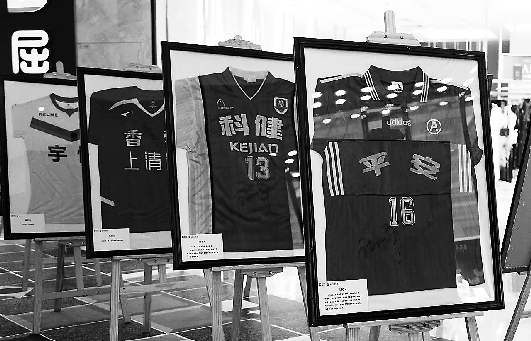 Soccer fans, save the date. Shenzhen F.C., a professional Chinese soccer club that currently participates in the China League One division, is exhibiting its past jerseys, medals, footballs with autographs and team flags at Kaisa Plaza in Longgang District.
With the Shenzhen Stadium as its home and Juan Ramon Lopez Caro as its head coach, the club's current major sponsor is property development company Kaisa Group which took over the club in 2016.
Founded in 1994, the club was known as Shenzhen F.C. when they started at the bottom of the Chinese soccer pyramid in the third tier. After successive league title wins in the third and second tier of the professional soccer leagues, they were promoted to the top tier in the Chinese A League (now Chinese Super League) in 1996.
After only one season they were relegated to a lower tier again, however they quickly regained momentum and started to re-establish themselves within the league before they won the Chinese Super League title in 2004, making them the first club to win all three tiers within the Chinese league pyramid. Since this achievement, the club has struggled to repeat that level of success and after 14 years were again relegated to the second tier (China League One) at the end of 2011 Chinese Super League season.
With its different sponsors, the team's name has changed many times throughout the years: Shenzhen F.C. (1994-95), Shenzhen Feiyada (1996), Shenzhen Ping An (1997-98), Shenzhen Ping An Insurance (1999, 2002), Shenzhen Ping An Kejian (2000-01), Shenzhen Jianlibao (2003-05), Shenzhen Kingway (2006), Shenzhen Xiangxue Eisiti (2007-08), Shenzhen Ruby (2009-14), Shenzhen Yuheng (2015), Shenzhen Kaisa (2016-now).
Past renowned coaches included Sven-Goran Eriksson (2016-2017), Clarence Seedorf (2016), Philippe Troussier (2011-2013), Sinisa Gogic (2010) and Edson Tavares (1999-2000).
Dates: Until July 15
Venue: 1/F, Kaisa Plaza, Buji, Longgang District (布吉佳兆业广场一楼)
Metro: Line 3 to Mumianwan Station (木棉湾站), Exit B1/B2(SD News)