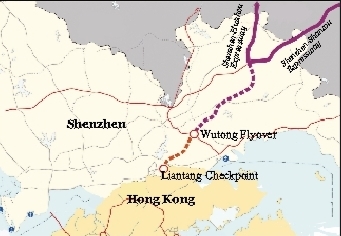 THE section of Shenzhen Eastern Border Expressway between the under-construction Liantang Checkpoint bordering Hong Kong and Wutong Flyover, an interchange flyover with Yanpai Expressway, will be put into operation before the end of the year, sources from Shenzhen transport commission said Monday.
The 10-km section mainly runs in Luohu District.
According to the commission, 55 percent of the 31.1-km expressway has been completed. The eastern border expressway starts from Liantang Checkpoint and ends at Jinqian'ao Overpass in Longgang District, the interchange overpass of Shenzhen-Shantou Expressway and Shenzhen-Huizhou Expressway.
It is regarded as an important road serving the city's eastward expansion as it passes through Luohu, Longgang and Pingshan districts and is connected with urban roads, such as Beihuan and Aiguo roads.
The expressway will be toll free and is expected to stimulate the economy in the east of the city when Liantang Checkpoint opens as scheduled before the end of this year. It will also facilitate vehicles from Hong Kong, allowing them to reach downtown Shenzhen and eastern Guangdong cities through Shenzhen-Shantou Expressway and Shenzhen-Huizhou Expressway.
Liantang/Heung Yuen Wai Checkpoint, the seventh land checkpoint between Shenzhen and Hong Kong, will handle about 30,000 passenger trips and 17,850 vehicular trips a day. It will significantly shorten the travel distance and time between the two cities, as cross-boundary traffic will not have to travel through congested local roads in Hong Kong and Shenzhen. A trip between Hong Kong and Shenzhen's Longgang and Pingshan districts will be cut to within 30 minutes.
(Han Ximin)