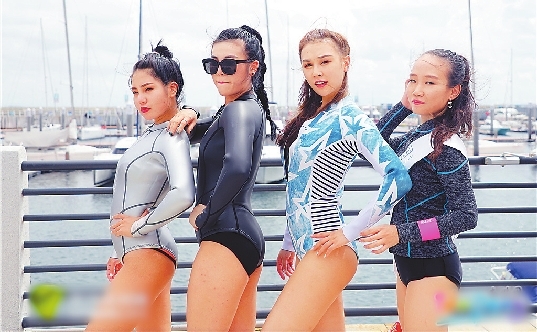 SEVEN candidates for Miss Scuba China, a regional contest for Miss Scuba International, dived into the waters off Yangmeikeng in Dapeng New Area on Monday to conduct a reef check and help promote ocean environment protection, sznews.com reported.
Miss Scuba International is the world's first beauty contest for female scuba divers who help raise public awareness of protecting the ocean environment.
The beauty candidates also participated in a series of other activities, including clearing rubbish on the beach and joining a community ocean knowledge classroom, to call on the public to participate in protecting the ocean.
The reef check activity in Shenzhen also kicked off a national general survey of coral reefs.
Guangdong Province introduced reef check, a worldwide monitoring initiative endorsed by the United Nations, from Hong Kong in 2007. After 11 years of efforts, the reef check in Guangdong has been upgraded to the State level — a national general survey of coral reefs with joint forces from Hainan Pro-vince and the Guangxi Zhuang Autonomous Region.
"We will have 31 reef checks in Guangdong Province this year, and the Nan'ao and Nanpenglie islands in Shantou City recently joined us," said Liao Baolin, secretary general of China Reef Check.
According to Liao, there are 31 reef check teams, including volunteer divers who had previously joined and new teams from corporations.
(Zhang Qian)