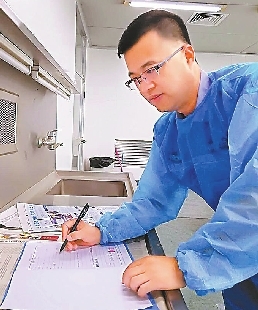 MANY people have been curious about forensic medical examination, which they learn about only from TV series: forensic doctors deal with bodies and find clues from the dead to help police solve crimes. But Shi Qiqiang said they are just a kind of medical worker.
Shi is a forensic medical examiner with Longgang District Public Security Bureau. He has helped solved many crimes over the past two decades, the Shenzhen Evening News reported yesterday.
After graduating with a degree in clinical medicine in 1997, Shi began working at a public security bureau in Heilongjiang Province. In 2004, he relocated to work in Shenzhen.
Shi has accumulated rich experiences with over 6,600 autopsies and about 5,800 examinations of living victims under his belt.
In 2017, a teenage girl in Longgang District went missing. Local police found the apartment where she had stayed before going missing.
Shi and other police officers found that the apartment had been rented out to new tenants. All furniture had been changed and the walls repainted.
Shi discovered two brown dots near a door frame, which he suspected were from the girl's blood, meaning that the she had been murdered in the apartment.
The next day, police officers found the girl's remains on a road several kilometers away from the apartment, just as Shi had suspected.
Shi would offer crucial information about the victims, such as their possible occupations.
In another case in 2004, Shi helped catch a murderer of a dead woman after he detected some pesticides in her mouth.
Shi has issued thousands of death certificates for the deceased. (Cui Chenxin)