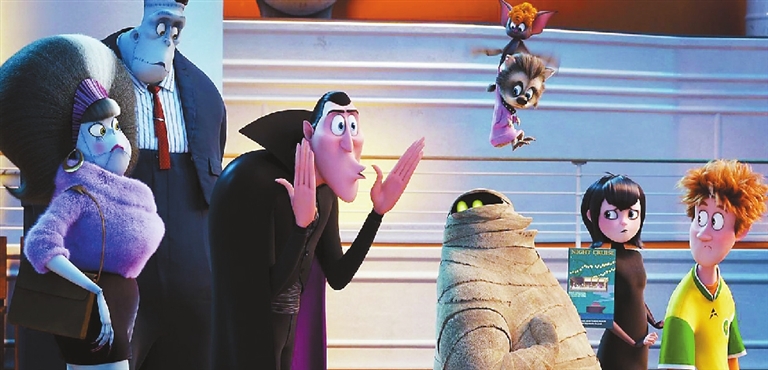 Sending its gang of cuddly monsters off on a holiday at sea, Genndy Tartakovsky's "Hotel Transylvania 3: Summer Vacation" is exactly the kind of energetic, middlebrow* timekiller fans will expect.
Hotel Transylvania's owner Dracula (voiced by Adam Sandler), having been a widower for well over a century, begins at the film's outset to yearn for* a new love. But he has barely started swiping through the menagerie* on ghoul-hookup app Zingr when Mavis, mistaking his loneliness for workaholic* tiredness, books him and all their friends on a surprise vacation: a cruise beginning in the Bermuda Triangle and destined for Atlantis.
Drac's friends Frankenstein, Wayne the werewolf and others are sure he'll meet somebody on the cruise. No sooner has he chided* them, "This isn't the Love Boat," than an acrobat flies through the air and attracts Drac — a white-clad woman who turns out to be the vessel's Captain Ericka (Kathryn Hahn). She also turns out to be a member of the Van Helsing clan of vampire-hunters, though it'll be a while before the passengers learn that.
In a flashback* to 1897, we see Dracula and Ericka's great-grandpa in an amusing series of Coyote/Road Runner encounters*, with Van Helsing failing so many times he finally gives up. But the human bad guy has kept himself alive all this time with a series of substitute body parts, and has trained Ericka to hate vampires above all other beings. She's supposed to take the ship to Atlantis so the old man can retrieve what he believes is a secret weapon there, but Ericka is impatient and tries a few times to kill Drac en route.
Ericka will finally fall in love with the Count, and even her great-grandpa will see the light: Monsters or humans, "basically, we're all the same," as Drac puts it. Here, at least, is a moral more worth feeding to elementary-school kids than "a zing* only happens once in your life" or "a zing never lies" — and certainly less harmful than the third-act admonishment*, "You're just a half" a person until you create an "infinite whole" with someone else.