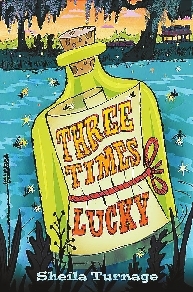 "Three Times Lucky" is a 2013 New York Times bestseller and a Newbery Medal Honor book in the same year.
Eleven years ago, Mo LoBeau arrived in Tupelo Landing, North Carolina, a newborn baby girl washed downstream during a hurricane* and rescued by "the Colonel," a stranger who can't remember anything about his own past. Both are taken in by Miss Lana, owner of the Tupelo Cafe. Mo (short for Moses) loves the Colonel and Lana, but she can't curb* her curiosity: Isn't anybody missing a lucky newborn?
Mo scratches this itch* by sending messages in bottles to her "Upstream Mother."
Into this implausible* but hilarious premise arrives an out-of-town detective*, a dead body (cafe customer Mr. Jesse), a long-forgotten bank robbery and a kidnapping*.
Mo and her best friend, Dale, get deeply embroiled in* the murder mystery, disobeying parents and putting themselves in danger when they try to help solve it. Dale's father is an alcoholic* who's abusive to his wife and children, and in one scene, he's drunk and hits his wife and threatens Dale and Mo, pushing Dale to threaten his father with a shotgun.
This much plot might sink a story, but author Sheila Turnage makes it work. Mo's wry humor also makes this first novel completely memorable. "Boredom kills," she suggests as Mr. Jesse's cause of death. "I've had close brushes myself, during math."
Both English and Chinese versions of the book are available at online bookstores like jd.com.(SD-Agencies)