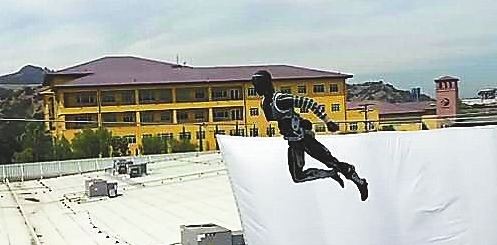 Walt Disney Studios is developing humanoid* robots to serve as stunt doubles* in some of its latest blockbusters. Known as "stuntbots," the robots could also be used in live theater shows at Walt Disney's theme parks.
Stuntronics are autonomous, self-correcting aerial* performers capable of making on-the-go corrections during high-flying stunts to ensure they also land safely.
The latest robots are being developed by Walt Disney Imagineering Research and Development in California.
To make these cinematic stunts possible, the robot is fitted with an on-board accelerometer* and gyroscope* that allow it to know its positioning at all times using laser technology. These features enable the bot to keep itself stable, even as it is propelled into the sky by a series of wires and pulleys.
This means the robot can execute and land flamboyant manoeuvres, all while maintaining an iconic superhero pose. While the acrobatic androids* are designed to provide aerial entertainment, the Imagineering department is also working on hyper-realistic animatronics* to replicate* facial movement and terrestrial* locomotion.
In live shows, a swift change between the two robots can provide a flawless show without endangering human life.
"So often our robots are in the uncanny* valley where you got a lot of function, but it still doesn't look quite right," says Morgan Pope, associate research scientist at Disney. "And I think here the opposite is true. When you're flying through the air, you can have a little bit of function and you can produce a lot of stuff that looks pretty good, because of this really neat physics opportunity — you've got these beautiful kinds of parabolas* and sine* waves that just kind of fall out of rotating and spinning through the air in ways that are hard for people to predict, but that looks fantastic."(SD-Agencies)