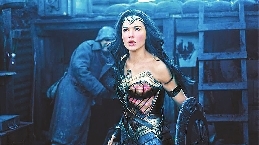 Justin Bieber 'engaged to Hailey Baldwin'
Canadian pop star Justin Bieber is engaged to U.S. model Hailey Baldwin, U.S. media reported.
Gal Gadot visits children's
hospital as Wonder Woman
Gal Gadot followed in a long line of actors inhabiting their superhero characters in the real world on Friday when she visited a children's hospital dressed as Wonder Woman.
Steve Ditko, Spider-Man
co-creator, dies at 90
Steve Ditko, the Marvel Comics artist who gave the world the woven webs and soaring red-and-blue shape of Spider-Man and the other-worldly shimmer of Doctor Strange, has died, authorities said on Friday. He was 90.
Fyre Festival ordered to pay back upset music fans
Two of the thousands of music fans who paid top dollar for a luxurious festival in the Bahamas but found squalor instead are getting money back — US$5 million worth.
CMIC announces awards
nominations
Chinese singers will gather for the second CMIC (China Music Industry Committee) Music Awards ceremony to be held in Beijing on July 31. Nominations were announced in Beijing. Xu Yi, president of the CMIC Music Awards Committee, revealed the nominations in 35 categories.
'Game of Thrones' actress Dormer makes debut in screenwriting
"Game of Thrones" actress Natalie Dormer gets in front as well as behind the camera for thriller "In Darkness," a movie she began writing nearly 10 years ago frustrated by the lack of "three-dimensional" roles for women.
(SD-Agencies)