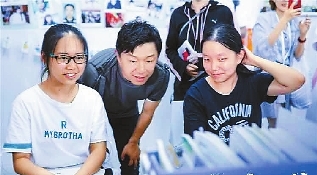 "Crazy Stone" and "Lost in Thailand" actor Huang Bo surprised students at Shenzhen Middle School when he paid a visit to the school on June 29 to share stories about his career in acting and to promote his new movie "The Island," a full-length feature he directed and starred in set to release on August 10.
Huang arrived at the school one hour before class started and made his first surprise appearance at a taekwondo class in the school gym. He served as an assistant, holding a damp-board in the air to receive kicks from students. He also practiced some taekwondo moves with students in a very professional manner, which surprised the students.
After the class, he met with school students and shared his stories about being an actor. During the sharing session, he said that the school has pooled the best of the best students, which may make other students feel under pressure. He encouraged those students to relax and take it easy, saying that "the world is not absolutely fair but 'supporting roles' will have a bright future."
Having devoted himself to shooting movies over the past three years, Huang said he worried that not so many students will show up at his sharing session, but the enthusiasm from the students really cheered him up.
While playing a trailer of his new movie, Huang also thanked Zhang Yixing, who played a role in his movie, saying that Zhang devoted over four months to the movie and overcame his fear of fish during filming , which was a real challenge for him.
(Yang Mei)