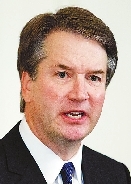 U.S. President Donald Trump on Monday announced Brett Kavanaugh as his nominee for the U.S. Supreme Court, picking a conservative federal appeals court judge who survived a previous tough Senate confirmation battle and helped investigate Democratic former President Bill Clinton in the 1990s.
In picking the 53-year-old Kavanaugh, Trump aimed to entrench conservative control of the court for years to come with his second lifetime appointment to the nation's highest judicial body in his first 18 months as president.
Kavanaugh now faces what appears to be another fierce fight for confirmation in the Senate, where Trump's fellow Republicans hold a slim majority. If confirmed, Kavanaugh would replace long-serving conservative Justice Anthony Kennedy, who announced his retirement June 27 at age 81.
The nominee has amassed a solidly conservative judicial record since 2006 on the influential U.S. Court of Appeals for the District of Columbia Circuit, the same court where three current justices including Chief Justice John Roberts previously served. Some conservative activists have questioned whether he would rule sufficiently aggressively as a justice.
Kavanaugh potentially could serve on the high court for decades. The appointment will not change the ideological breakdown of a court that already has a 5-4 conservative majority, but nevertheless could move the court to the right.
(SD-Agencies)