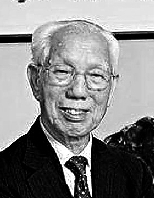 TIN KA-PING, a distinguished Hong Kong entrepreneur and philanthropist who had donated hundreds of millions of Hong Kong dollars to support educational institutions, has passed away at the age of 99.
The Tin Ka Ping Foundation said in an obituary posted on its website that Tin died peacefully on Tuesday morning.
A funeral will be held where only family members will be present. A memorial gathering will be arranged later for the public to get a chance to pay their tributes.
After learning of Tin's death, Hong Kong's chief executive, Carrie Lam, extended her condolences to the philanthropist's family.
Expressing deep sorrow over the passing, Lam noted in a statement that Tin was a renowned entrepreneur and philanthropist who showed admirable lifelong devotion in contributing to society and the country.
Born in 1919 in Dabu County in Guangdong Province, Tin established his business in southeast Asia before settling in Hong Kong in 1958.
He established the Tin Ka Ping Foundation with the aim of providing financial support for educational causes, as he believed that the society's future lies in education.
Since then, Tin had donated an enormous amount of money to schools in Hong Kong and the Chinese mainland, including the University of Hong Kong, the Education University of Hong Kong, and the Open University of Hong Kong.
In 2001, he sold his mansion in Kowloon Tong for HK$56 million (US$7.1 million) and donated it all to the foundation, which then used it to finance dozens of schools. In 2009, Tin donated four industrial buildings owned by him so that the foundation can, after deducting the administrative cost, use the annual rent income of about HK$70 million for educational purposes.
Praised for being a low-profile person despite his philanthropy, Tin was awarded the Grand Bauhinia Medal by the Hong Kong SAR Government in 2010 for his contributions to society. (SD-Agencies)