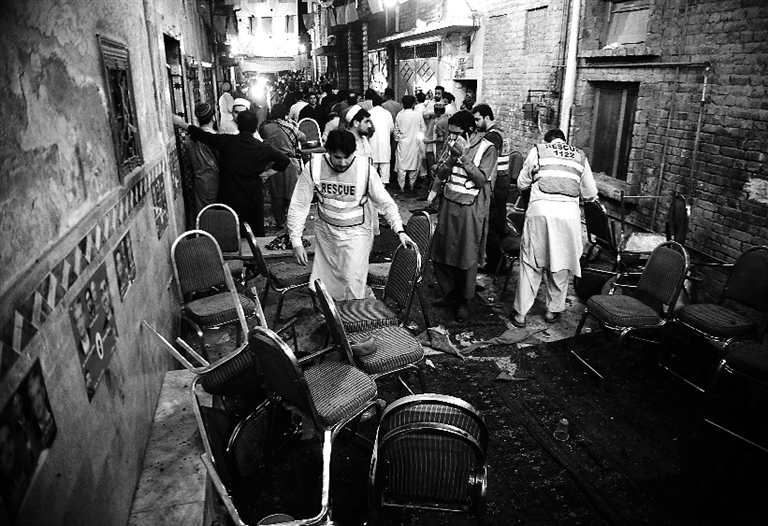 A SUICIDE bomber blew himself up at a rally by an anti-Taliban political party in Pakistan, killing 20 people, including a candidate in July 25 elections, police and hospital officials said yesterday.
The Pakistani Taliban claimed responsibility for the Tuesday attack.
Awami National Party (ANP) candidate Haroon Bilour was killed in the late Tuesday blast in the northwestern city of Peshawar. His father, senior ANP leader Bashir Bilour, was killed in a suicide bombing in late 2012, in the run-up to Pakistan's last election.
"The death toll from last night's suicide attack has reached 20 while we have 65 injured, some of them in critical condition," Zulfiqar Ali Babakhel, a spokesman for Peshawar's main Lady Reading Hospital, said.
The ANP is a predominantly secular, ethnic Pashtun nationalist party, which has long competed with Islamist parties for votes in Pakistan's volatile Pashtun lands, along the border with Afghanistan.
Islamist militants have attacked the party numerous times over the years, including in the run-up to the last election in 2013.
The Pakistani Taliban, a loosely aligned umbrella group of several militant and sectarian bands, have been waging a war against the Pakistani state for over a decade.
Last month, a U.S. drone strike killed Pakistani Taliban chief Mullah Fazlullah in eastern Afghanistan. Fazlullah had claimed responsibility for most of the attacks against the ANP before the 2013 election.
(SD-Agencies)