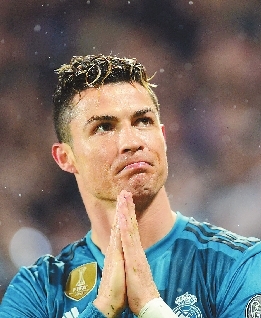 CRISTIANO RONALDO is leaving Real Madrid.
That stunning statement, after years-long charades of speculation that invariably proved unfounded, became official Tuesday. Real Madrid confirmed that Ronaldo, a top-two player on the planet, will complete a lucrative transfer to Juventus.
The Italian club later confirmed its capture of the Portuguese megastar, specifying a transfer fee of US$117.5 million and additional payments of US$14.1 million to Ronaldo's previous clubs.
The transfer fee puts Ronaldo among the 10 most expensive transfers ever for the second time. An exorbitant salary will bring him closer to, if not beyond, the wages of Lionel Messi and Neymar.
Along with its confirmation, Madrid published a goodbye letter from Ronaldo. "I have only feeling of enormous gratitude for this club," the 33-year-old said. "However, I believe that the time has come to open a new stage in my life, and therefore I have asked the club to accept transferring me."
Ronaldo departs Madrid on the back of a historic third consecutive Champions League title. He scored an astounding 450 goals and claimed 15 total trophies over nine seasons. He won four Ballon d'Or awards as the best player on the planet.
But there are reasons his glittering tenure came to such an abrupt end.
For Real Madrid, the breakup marks the commencement of a necessary rebuilding process.
Though the 2017-18 team ascended to the top of Europe once again, fissures had begun to appear. More than half of the threepeat's core is now over 30. Los Blancos finished 17 points behind Barcelona in La Liga, and benefited from plenty of good fortune in the Champions League knockout stages.
With manager Zinedine Zidane stepping down and former Spanish national team coach Julen Lopetegui replacing him, this summer was the natural starting point.
It was time for a refresh before the fissures became full-on cracks. (SD-Agencies)