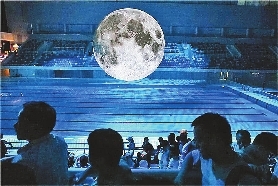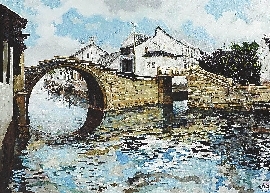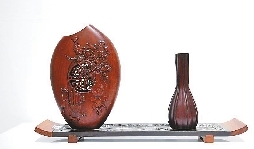 'Museum of the Moon'
STARTING July 8, the National Aquatics Center in Beijing, better known as the Water Cube, has hosted a unique art installation featuring a 10-meter-wide moon by British artist Luke Jerram and China's lunar exploration technology.
Visitors are able to view the giant globe hanging above a swimming pool, which together with indoor lighting and projective images, forms a powerful image.
Retrospective exhibition
SHANGHAI-BORN Pang Jiun demonstrated talent for painting at an early age and held his first exhibition at 9 with his sister Pang Dao.
Now the 82-year-old is showing some 30 paintings at an exhibition held through July 31 in Hong Kong, where he lived and taught art in the 1980s before moving to Taiwan.
The exhibition showcases landscapes, still-lifes and figure paintings, showing Pang fusing a fauvist style with Chinese cultural traditions.
The exhibition is being held at the Exchange Square in Central.
Anhui Cultural Year
THE 2018 Anhui Cultural Year was held at the China Cultural Center in Singapore on June 1, offering a glimpse of China's Hui culture, which originated in East China's Anhui Province.
On display are documents of 24 historical figures in Anhui to narrate the place's history and Anhui's intangible cultural heritage, such as Hui-style carving and the "four treasures of study" in ancient times — namely paper, ink, brushes and inkstones. (SD-Agencies)