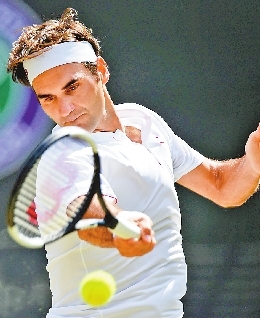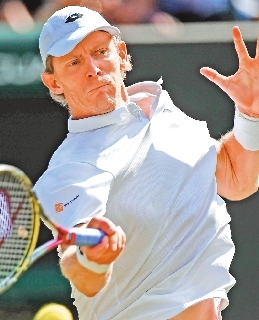 IN a stunning turnaround, top-seeded Roger Federer blew a third-set match point and, eventually, all of his big lead in a 2-6, 6-7 (5), 7-5, 6-4, 13-11 loss to No. 8 Kevin Anderson on Wednesday in a 4-hour, 14-minute tussle.
"It was just one of those days where you hope to get by somehow," Federer said. "I almost could have. I should have."
This was only the third time in Federer's 20 years of contesting Grand Slam matches that he lost one after taking the opening two sets; both of the other defeats came in 2011. And, according to the ATP, it's the fifth time Federer lost a match at a major tournament after holding a match point, something else that last happened seven years ago.
How hard was it to see this coming? Federer was 4-0 against Anderson entering the day, winning every set they'd ever played against each other. But there was more. So much more. Federer was attempting to reach his 13th semifinal at Wimbledon and move closer to title No. 9, both of which would have broken his own records.
He came into the match having won 32 consecutive sets at Wimbledon, a run he stretched to 34 before faltering. And he had held serve 81 games in a row at the grass-court major, a streak that grew to 85 before Anderson broke him a surprising total of four times.
"I just kept on telling myself, 'I have to keep believing.' I kept saying that today was going to be my day, because you really need that mindset taking the court against somebody like Roger," Anderson said.
Not that Anderson is anything other than an elite tennis player. He was, after all, the runner-up at last year's U.S. Open. That also was the closest he's come to winning a Grand Slam trophy, while Federer owns 20. Now the 32-year-old South African moves on to face No. 9 John Isner of the U.S. on Friday.
Three-time Wimbledon champion Novak Djokovic got his wish to play in the main stadium, and he reached his first Grand Slam semifinal since 2016 by beating No. 24 seed Kei Nishikori of Japan 6-3, 3-6, 6-2, 6-2.
Djokovic is a 12-time major champion who's been in something of a rut, due to right elbow troubles that lasted more than a year until he finally had surgery in February.
He's been flashing some anger this fortnight and did so again in the second set, bouncing his racket off the turf after failing to capitalize on three break points at 1-all. That earned a code violation from chair umpire Carlos Ramos. When Nishikori let his own racket fly in the fourth set, he wasn't chastised, which prompted Djokovic to yell "double standards" toward Ramos.(SD-Agencies)