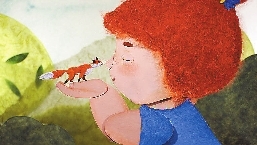 Design Society in Shekou will showcase films from the 2017 Stuttgart International Festival of Animated Film this weekend and next weekend.
Founded in 1982, the festival is one of the most outstanding events for animated films worldwide. The "Best of Tricks for Kids" category invites children and families to go on a journey of discovery through the magical world of animated film, by presenting the most beautiful and captivating short films for children.
The "Best of International Competition" category offers a thrilling tour of the worldwide animation scene and invites the audience to laugh, marvel and reflect. The "Best of Animation From Baden-Wurttemberg" category offers a visual and topical tour of the multifaceted animation scene in Baden-Wurttemberg.
Schedule:
• Films from the "Best of Tricks for Kids" category
Time: 3:30-6 p.m., July 14, 22
• Films from the "Best of International Competition" category
Time: 3:30-6 p.m., July 15
• Films from the "Best of Animation From Baden-Wurttemberg" category
Time: 3:30-6 p.m., July 21
Tickets: 15-30 yuan (booking on "DesignSociety" WeChat)
Venue: Mountain View Theater, Design Society|Sea World Culture and Arts Center, 1187 Wanghai Road, Shekou, Nanshan District (南山区蛇口望海路1187号设计互联|海上世界文化艺术中心境山剧场)
Metro: Line 2 to Sea World Station (海上世界站), Exit A
(SD News)