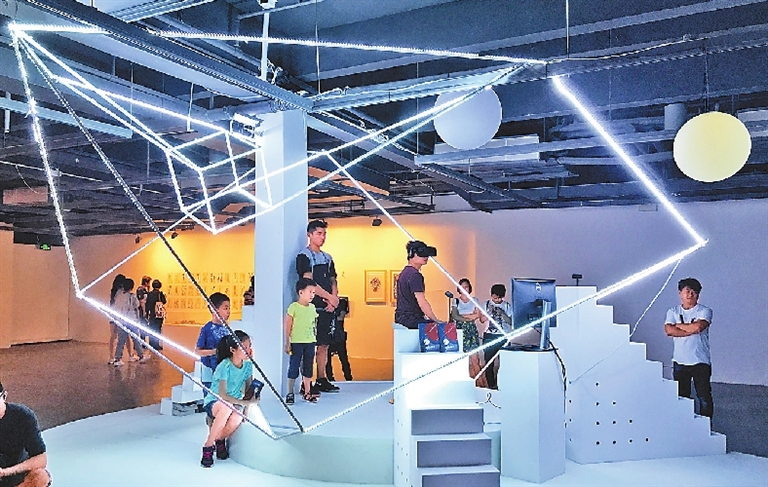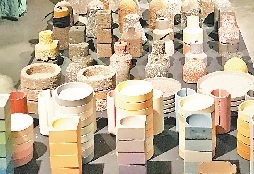 Cao Zhen
caozhen0806@126.com
Thirteen teams of artists are exhibiting their installations and projects at the "Another Way to Design" exhibition at OCT Art & Design Gallery, trying to explore the time and space behind design and products.
"This exhibition tries to present another way of sensing 'things' for visitors. From revitalizing old products to preserving traditional craftsmanship, architecture and culture, the artists are trying to highlight the time and space existing in 'things' and to shorten the distance between humans and 'things'," said curators Liu Qingyuan and Xie Anyu.
The exhibition is divided into three sections: "Studio," "Creation" and "Lab." In the "Studio" section, Bentu Design, an independent design brand, placed bricks, concrete and construction waste at the exhibition hall. The team holds almost "stubborn" zest in their intensive research on construction materials since they believe that concrete has already infiltrated our lives and civilization process, a symbol of our era. This section invites visitors to understand designers' thoughts and working process.
The "Creation" section, exhibiting several rural construction projects, not only refers to the building construction and interaction with the local communities, but also points to the challenging cultural practice and ideology advancement in China's rural areas.
Cangdong Project, a pilot project in Kaiping, Guandong Province, pays great attention to the preservation and continuity of tangible and intangible heritages. The project, managed by Cangdong Cultural Heritage Conservation and Development Center, focuses on architectural conservation, community development and education.
Yuan Museum's Corner Cabinet Plan gathers collectors, artists and designers to collaborate with carpenters in Conghua, Guangzhou, to promote the villagers' traditional hand-made cabinets.
The "Lab" section explores interaction between different disciplines under the global network and new technology context.
Dates: Until Sept. 2
Tickets: 8-15 yuan, free on Tuesdays
Venue: OCT Art & Design Gallery, 9009 Shennan Boulevard, Nanshan District (南山区深南大道9009号华•美术馆)
Metro: Line 1 to OCT Station (华侨城站), Exit C