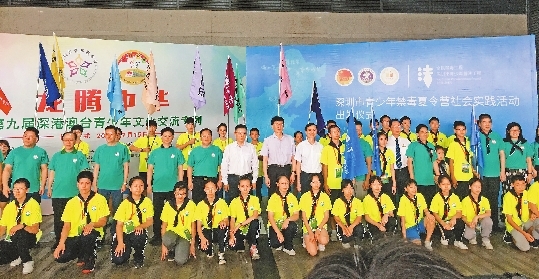 Zhang Qian
zhqcindy@163.com
AMID an exciting atmosphere, over 720 teenagers from Shenzhen, Hong Kong, Macao and Taiwan boarded a special train at Shenzhen Railway Station in Luohu District yesterday morning to embark on a journey to experience the country's unique landscapes and cultures.
The 13-day trip will take these teenagers to well-known tourist sites in Beijing, Henan and Inner Mongolia, among other places, according to the organizers.
It is the ninth tour to be jointly organized by several youth-related departments across the Strait. The purpose of the special tour is to allow teenagers from these places to experience the country's diverse landscapes and rich cultures.
According to the itinerary, the teenagers will visit one of the most famous temples in China, the Shaolin Temple, to watch a performance of Chinese Kung Fu. They will also watch up close as a bird conservatory releases a red-crowned crane, one of China's most valued and protected animals, back to nature. They will also visit the world's third largest grassland, the Hulun Buir Grassland in Inner Mongolia.
A handful of fun activities will be held while the students are on the train, such as trivia, riddle and painting competitions.
The tour has been organized eight times already, with over 4,000 teenagers, between 10 and 18 years of age, from the four places participating. The tours are expected to enhance communication between young people in the four regions.