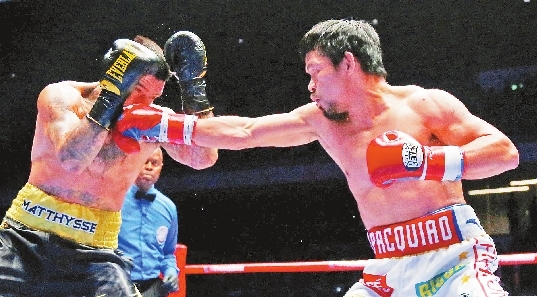 MANNY PACQUIAO clinched his 60th victory with a seventh-round knockout yesterday of Argentinian Lucas Matthysse, his first stoppage in nine years.
Pacquiao said he worked hard but was surprised by the swift win in the World Boxing Association welterweight title fight.
Pacquiao rebounded from his disappointing loss last year to Australian Jeff Horn and his victory could extend his boxing career that had taken a backseat to his political life as a Filipino senator.
"This is part of boxing. You win some, you lose some," Matthysse said. He hailed Pacquiao as a "great legend" and said he will take a break after his loss.
Pacquiao attributed his first knockout in almost a decade to the effective strategy and good training.
"At the beginning of the first round, I had it in my mind that I could control the fight," he told a post match press conference.
"But our strategy is to be patient, to take time, don't rush, don't be careless like what we did before, " he said.
Philippine President Rodrigo Duterte and Malaysian Prime Minister Mahathir Mohamad also attended the fight, the biggest boxing match in the country since the 1975 heavyweight clash between Muhammad Ali and Australian Joe Bugner.
Duterte said: "I would like to congratulate Senator Manny Pacquiao for giving us pride and bringing the Filipino nation together once more."(SD-Agencies)