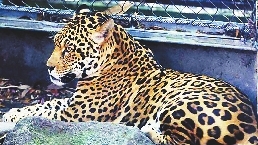 A ZOO in New Orleans, the U.S., remained closed Saturday after a jaguar escaped its habitat and killed six other animals.
Audubon Zoo said the 3-year-old male jaguar, named Valero, was spotted outside his enclosure by a zoo employee at around 7 a.m.
Valero attacked four alpacas, one emu and a fox. The animals died.
Kyle Burks, vice president and managing director for the zoo, said at a news conference that Valero was sedated by a team of veterinarians and the animal was returned and secured in his area.
No humans were injured, although the circumstances of the escape sparked a worrisome thought at what might have been: The "jaguar jungle" is also home to a children's play area.
In a news conference Saturday, zoo officials insisted the facility was safe for the general public, even though they would not say how the predator managed to escape and either kill or injure every alpaca on zoo property.
The zoo was closed Saturday but said it was scheduled to reopen yesterday.
"We care for these animals every day," Burks said. "We closed the zoo today to help our team mourn."
No explanation has been given for the jaguar's escape, but the zoo said an "after-action review" was taking place, as well as an investigation into how the jaguar escaped.
"We take this situation very seriously and we're working to investigate everything that happened so we can prevent anything like this from happening again," Burks said.
But the incident was certain to raise questions about the dangers of caging apex, or top, predators that have evolved to hunt and kill, and will quickly pounce on prey animals – or humans – if safeguards break down.
In the spring of 2017, a British zookeeper was mauled after being trapped in the Hamerton Park Zoo's tiger enclosure with at least one of the big cats.
Horrified witnesses said they could see zookeepers sprinting to the edge of the tiger enclosure, throwing pieces of meat as an unsuccessful distraction.
In 2016, zookeeper Stacey Konwiser, 38, was killed while preparing the "night house" at the Palm Beach Zoo. The house is where the animals were cleaned and fed.  (SD-Agencies)