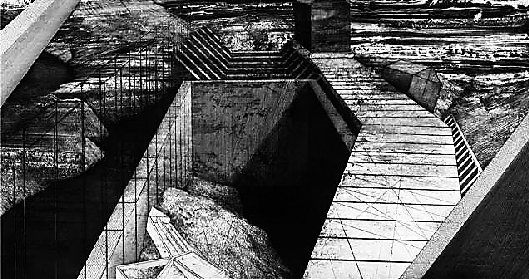 "Transcending Boundaries," a new art exhibit featuring the works of Evan Summer, is being held at China Printmaking Museum in Guanlan, Longhua District.
Summer specializes in printmaking. His artwork is influenced by his background in science, and many of his pieces feature architectural or geometric forms.
He received his bachelor's degree in chemistry at the State University of New York College at Cortland, a bachelor's degree in printmaking and painting at the State University of New York College at Buffalo and a master's degree in printmaking at Yale University's School of Art. He has been teaching printmaking at Kutztown University in Pennsylvania for over 30 years.
"Most of the images in my exhibition are stark, unpopulated landscapes," Summer said. "I like the challenge of creating something that is simultaneously abandoned, beautiful, mysterious and uncomfortable. It's an aesthetic more complex and interesting than a landscape that is just beautiful."
Summer has showcased his work in more than 300 exhibitions worldwide and in many public museum collections including the Metropolitan Museum of Art, the National Gallery of Art, the Brooklyn Museum and the Philadelphia Museum of Art.
Dates: Until Aug. 11
Venue: China Printmaking Museum, Yuxin Road, Guanlan, Longhua District (龙华区观澜裕新路中国版画博物馆)
Metro: Line 4 to Qinghua Station (清湖站), Exit A and then take a taxi(SD News)