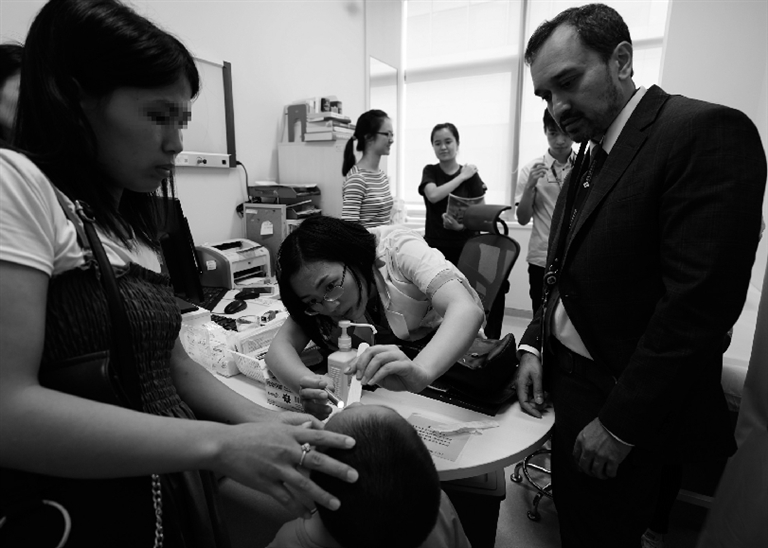 Zhang Yu
JeniZhang13@163.com
A TOTAL of 30 children from across the country who suffer from cleft lip and palate will receive free surgeries from the University of Hong Kong-Shenzhen Hospital (HKU-SZH) between today and Friday.
It's the seventh time that the hospital has offered free medical treatment to children with cleft lip and palate since it launched the program in 2015, helping altogether 226 children from poverty-stricken families and welfare centers to repair their cleft lips or palates, some of whom have required more than one surgery.
A 1-year-old child identified as Kunkun is one of the beneficiaries. He is going to receive a second surgery to repair his cleft palate. "The first operation was very successful. We're very happy that we were selected for a second time," said Kunkun's father surnamed Lin.
Kunkun is from a rural village in Puning City, Guangdong Province. He was born with a cleft lip and palate, but had never been to a hospital for treatment as his family is cash-strapped.
Lin said he heard the news from one of his relatives. He was told that a child from a neighboring village had received a free cleft lip and palate surgery from the HKU-SZH, so he immediately called to register. Kunkun first joined the program last November and had his cleft lip repaired.
Joe Fan, the hospital's assistant president, said that as the hospital continues to provide free diagnosis and treatment for children with cleft lip and palate, more and more charity groups are joining in to provide financial support to the program.
"We've already provided free surgeries for two batches of children so far this year, and a third batch will benefit from the program at the end of the year," said Fan.
According to Fan, the cleft lip and palate birth defect occurs in about one in every 600 newborns in China. It can often be diagnosed during pregnancy with an ultrasound exam and can be successfully treated with surgery.
He advises that residents check the hospital's official website, www.hku-szh.org, and official WeChat account, "hkuszh," for more information.
According to the hospital, this round of free diagnoses and treatments is supported by the Chow Tai Fook Charity Foundation, Hong Kong Association for Cleft Lip and Palate, and Medical Missions for Children.