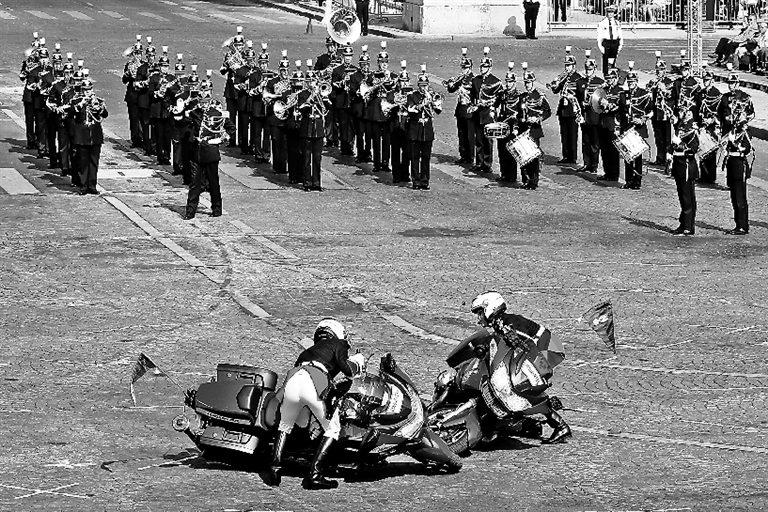 GALLIC pride took an embarrassing knock ahead of France's World Cup final match when the annual Bastille Day military parade went awry in the air and on the ground and in full view of President Emmanuel Macron on Saturday.
The July 14 parade is France's chance to display its military muscle as soldiers troop down the Champs-Elysées under the gaze of the president, and French fighter and reconnaissance jets thunder past overhead.
But only minutes into the parade down "the world's most beautiful avenue," a glaring glitch occurred as two gendarmes involved in a complex motorbike ballet with horsemen from the Republic Guard crashed into each other within yards of Macron.
Police and gendarme services didn't immediately have any details on who was involved. It appeared one of the motorcyclists miscalculated the entry onto the plaza.
The president kept a straight face, even clapping, as the two red-faced gendarmes struggled to lift their heavy bikes. A visibly irked military band conductor upped the tempo and the parade continued.
But presidential eyebrows were raised once more during the flypast of Alphajets from the Patrouille de France, the Gallic equivalent of Britain's Red Arrows.
In one of the most keenly awaited moments of the display, three sets of three jets were due to trail the colors that make up the French tricolour flag — red, white and blue.
However, due to a mix-up in charging the canisters, one of the jets had been fitted with the wrong color — red instead of blue — meaning the jets flew over with a lop-sided flag of white, red, blue and then red again.
French media has been waxing lyrical about the sense of inclusive patriotism Les Bleus, the name for the national team has created, with many players coming from the country's multicultural banlieues, or suburbs.
Some 110,000 police and security forces were deployed across France to protect citizens from attack on Bastille Day and during street parties should the national football team win the World Cup yesterday.
Giant "fan zones" posed a major security headache with around 90,000 people expected to watch the game under the Eiffel Tower, and another 230 such screens installed around the country.
France is still on tenterhooks two years after 86 people were mown down by a van in the Mediterranean coastal resort of Nice as thousands had gathered for the traditional firework display. Some 246 people have been killed in the past three years in terror attacks in France.
"Everything is being done so the French can live these festive moments with peace of mind, despite the terrorist threat which remains at a high level," said Gerard Collomb, the interior minister.(SD-Agencies)