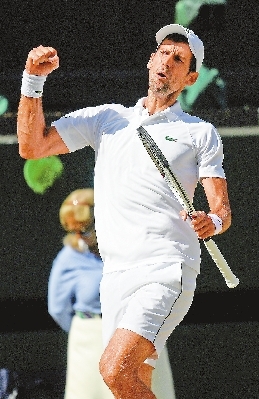 NOVAK DJOKOVIC became Wimbledon's champion for the fourth time Sunday, grabbing a lead right away against a weary Kevin Anderson in the final and holding off a late challenge to win 6-2, 6-2, 7-6 (3).
"There were several moments where I was frustrated and questioning whether I can get back to the desired level or not. But that makes this whole journey even more special for me," Djokovic said.
"It's easy to talk now and look back at it and be kind of grateful, but I am really grateful to go through this kind of, so to say, mixed emotions, turbulences as well, mentally, moments of doubt and disappointment and frustration, anger."
It is Djokovic's 13th major trophy, the fourth-highest total in the history of men's tennis, trailing only Roger Federer's 20, Rafael Nadal's 17 and his childhood idol Pete Sampras' 14.
But it's also Djokovic's first since he completed a career Grand Slam at the 2016 French Open.
"It was a long journey," the 31-year-old from Serbia said. "I couldn't pick a better place, to be honest, in the tennis world to peak and to make a comeback."
A year ago at the All England Club, Djokovic quit during his quarterfinal because of the elbow, then took the rest of 2017 off.
After the operation in February, Djokovic's results were mediocre. He realized later he tried to come back too soon.
"I really was impatient," he said.
In April, he reunited with Marian Vajda, the man who had coached Djokovic for years before Boris Becker and Andre Agassi did.
"I always had doubt," Vajda said. "I was thinking really negative."
They built "the new Novak," as Vajda explained it.
Still, Djokovic was so dispirited by his upset loss at the French Open last month that he vowed, in the heat of the moment, to skip the grass-court circuit.
(SD-Agencies)