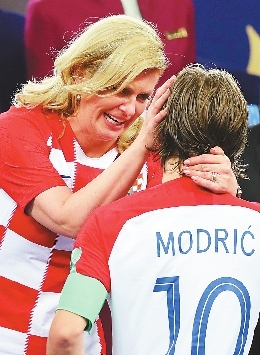 CROATIA captain Luka Modric won the FIFA Golden Ball for the best player at the World Cup 2018 despite seeing his side lose in the final to France.
It is the second consecutive tournament when the winner has been named as a player on the losing side in the final, after Lionel Messi was awarded it in Brazil 2014.
Modric has covered more distance than any other in the World Cup and becomes the first Croatian to win the award. He scored two goals and had one assist during the seven games in Russia, leading his team to two penalty shootout victories in what was Croatia's best ever showing in the World Cup.
The award for the young player of the tournament went to Kylian Mbappe, while Belgium's Thibaut Courtois won the Golden Glove and England's Harry Kane claimed the Golden Boot.
The 32-year-old, who now plays for Real Madrid, has arguably become the all-time best soccer player of Croatia.
In the days leading up to the final match of the World Cup, Modric's significant life story was chronicled by various media outlets. Modric and his family were expelled from their home village in the Dalmatian hinterland during Croatia's war of independence. He was six when his family was forced to leave their home during the insurgence of the Serb rebels, who killed Modric's grandfather.
The Modric family, just like other displaced refugee families, were accommodated in a hotel in Zadar. In these difficult circumstances, Modric began playing soccer, mostly in the hotel parking lot. During his childhood and teenage years, he practiced soccer in local clubs and started developing his career in Dinamo, Zagreb.
Modric made his international debut for Croatia against Argentina in March 2006, and scored his first international goal in a friendly match against Italy.
(SD-Agencies)