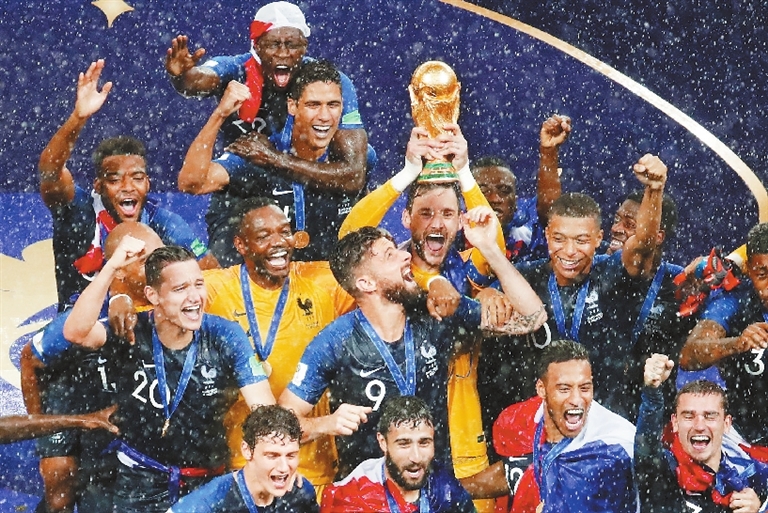 FRANCE won the World Cup for the second time in spectacular style Sunday with a 4-2 victory over Croatia.
"Our children are going to be very proud," forward Antoine Griezmann said. "The World Cup, it's a lot."
About 12 minutes after a protester gave Kylian Mbappe a double high-five on the field, the 19-year-old sent a right-footed shot from 25 meters past goalkeeper Danijel Subasic. The goal put France up 4-1, closing the door on Croatia who had been the better team until Mbappe took control.
Mbappe became only the second teen after Pele to score in a World Cup final.
"I have a whole story to write," Mbappe said. "This is just the beginning."
Paul Pogba and Griezmann, France's two other key creative players, also scored. Pogba played a disciplined role in Russia, but his natural joy was evident celebrating his 18-meter shot, and leading the champagne shower for Deschamps.
But it was Mbappe who put the match out of reach with a furious passage of play in the second half. In the 59th, a run from Mbappe started a play that ended up with Pogba on the edge of the penalty area. With his second attempt, the midfielder curled his shot beyond Subasic.
Griezmann scored from the penalty spot in the 38th minute, four minutes after his corner kick was knocked out of play by Ivan Perisic's arm. The referee ruled it handball only after a video review, just as the first thunder claps boomed around the stadium.
France took the lead in the 18th when Croatia's tallest outfield player, 1.90-meter forward Mario Mandzukic, rose to meet Griezmann's free kick with the top of his head. He deflected it past his own goalkeeper.
Perisic and Mandzukic both scored for Croatia, first to equalize in the 28th minute and later as a consolation goal in the 69th, embarrassing Lloris with a flicked shot as the France goalkeeper tried to dribble the ball out of his goalmouth.
France's coach Didier Deschamps became only the third man to win the World Cup as a player and a coach. He joined Mario Zagallo of Brazil and Franz Beckenbauer, who captained West Germany.
France's captain 20 years ago, Deschamps was lifted up by his players on the field and flung into the air several times and caught. The normally staid coach did a few skipping dance steps in the rain before stopping and laughing at himself.
(SD-Agencies)